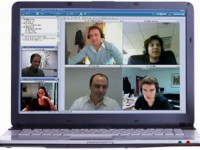 Web conferencing software helps connect people across distances
Small, medium, and large businesses are branching out. With powerful collaborative software for setting up shop just about anywhere, the office isn't as rigid as it used to be. And the same should apply to meetings. Web conferencing software can help connect people across distances, neutralize technical barriers, and create new collaborative spaces. In the following roundup we've gathered our favorite solutions on the market today.
Technical magazines have identified the top four solutions for small business customers: Adobe Connect, Cisco WebEx Meeting Center, Citrix GoToMeeting, and Fuze Meeting Pro. All four options stack up nicely, offering advanced collaboration features—whiteboards, application sharing, file hosting, and more—audio and video conferencing with support for phone-based users, and hardware-agnostic browser-based interfaces. Each solution is backed by its clear brand, lending your business an online presence with presence.
There are  several other options that don't quite fit the mold, but warrant consideration nevertheless. Although the latest versions of some of them raise the bar. They don't fully deliver the technology you would need to replace face-to-face meeting by a web meeting and conferencing solution.
While each grouping has its Editors' Choice pick—your needs will determine your favorite, and with some reviews of the most interesting solutions on the market today, you'll have plenty from which to choose.
This being said and unlike some Editors' Choice pick, a new solution coming from Europe has just started playing on the Big Boys US turf. WorskSpace3D or W3D from Tixeo Soft and marketed in the US by Zelena Inc, focuses on capability and scalability. W3D prioritizes ease of use, with good results. With W3D, starting a meeting is a one-click action (ad-hoc meeting), invitations can be distributed on the fly, and users can audio conference via VoIP or a toll-free call-in number. This admirable simplicity makes W3D the most complete, user friendly and easy to use web conferencing on the market. Airbus Industries, Banking & Insurance groups, Government agencies, Universities and others have already adopted WorkSpace3. Tixeo Soft has also embraced video conferencing and will shortly support mobile video conferencing for  iPad, iPhone and Android.
Unlike it's competitors, W3D  also has a different pricing strategy. It is targeting user experience for small businesses seeking a straightforward web conferencing solution at half the price of the competition. Multiple host license, no contract after 3 months for less than $ 25 / month.
For young or well established businesses seeking a fresh web conferencing service, WorkSpace3D may light your fire.
Regain control of your time. Reduce travel time but also control your travel expenses. Contact us to discuss how you can transition to a web-based meeting and conferencing collaboration without loosing the advantages of a face-to-face meeting.

WorkSpace3D is a solution developed by Tixeo Soft.  You can signup for a FREE trial at your local US representative via the Zelena Inc site.
For a limited time, we are also offering a FREE consultation about Web meeting and Web collaboration.