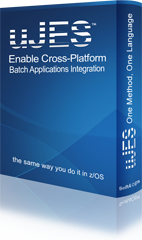 uJES: Linking applications, servers, services, databases & legacy systems.
Why choose uJES? uJES provides many cost effective features to control Java platforms:  
One language, One Methodology to synchronize all events
One set of commands to control all your servers
One common learning curve to understand all the platforms processes
One staff profile is sufficient to control all servers
One Universal Agent for Cross-platform event communication, monitoring and synchronization
One identical Catalog and File management system on each server
One common and secure working methodology
The possibility to complement or optionally replace your current batch scheduling agents for TWS, CA7, Control-M, Zeke and others
uJES: Open & Portable Architecture
uJES works with UNIX, Linux, Mac OS , Windows and any server supporting Java SE 1.6
Consolidate server and z/OS mainframe events using the uJES z/OS Bridge
Consolidate various servers events using the uJES Universal Bridge
Remote control operations using the uJES iPad Console
Works "Stand Alone" or connected with IBM z/OS mainframes
Ujes optional Extensions: CUPS Printer Support, Java Security Extension, Unix Services Integration,Mailbox Reader and Printer
uJES brings z/OS File and command facilities to Java platforms.
Readers, Initiators and Printers;
Centralized Control of Jobs and Outputs;
JES like Job Management using Job Class and Job Priority;
JES Data Sets for In Stream data (Sysins) and System Outputs (Sysouts);
z/OS like Consoles and Console Management;
z/OS Catalogs and Data Sets;
z/OS JCL Interpretation and z/OS Utility emulation;
z/OS Partitioned Data Sets and Generation Data Group;
z/OS Input Data Set Concatenation;
Data Set Allocation and Release according to Disposition;
Independent batch job and event scheduling software agent;
RACF like Security to control Program Execution and Data Set Access.